Our Bernese Mountain Dogs information as follows: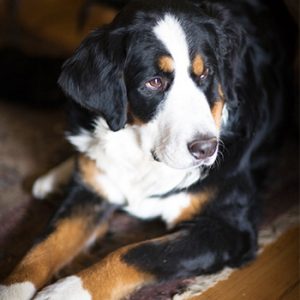 Hermione's Magic Flower   RETIRED
DOB 1/15/2015  
AKC # WS49307902 
BernerGarde # 139355
Test Results:
       vWD clear
       DM SOD1-A clear
       DM SOD1-B clear
       Elbows (OFA) Normal
       Hips (OFA) Fair
       Eyes Normal
       Heart-ECHO  Normal-CONG
Flower's superpowers include: contorting herself into remarkable pretzel-like positions and performing acrobatic jumps over other dogs while playing (maybe she was a circus performer in her past life).  She is a very well-behaved dog, and always walks perfectly on-leash.  Her puppies, overall, are smart and calm with many excellent prospects for service or therapy work.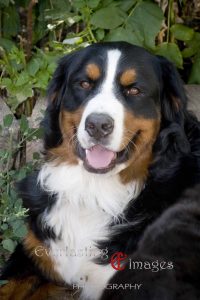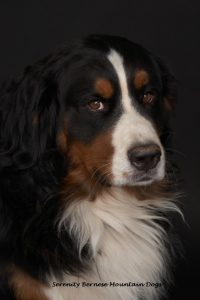 Sweet Outlaw Jesse James
DOB 4/7/2016
AKC # WS56926601 
BernerGarde # 152744

Canine Good Citizen
Mobility Service Dog
Test Results:
       vWD clear
       DM SOD1-A clear
       DM SOD1-B clear
       Elbows (OFA) Normal
       PennHIP right DI = 0.41, left DI = 0.44
       Eyes Normal
Jesse's superpowers include: being the most calm, polite, patient and intuitive dog ever known, as well as taking away all anxiety and PTSD attacks before they can escalate.  There truly are too many amazing things to say – as a small puppy he has always been a helper, insisting on pulling weeds with me and carrying the hose daily to water the garden.  He'd wait patiently as I trained him in stores and people would come and talk to us for hours on end.  He loves baby animals and small dogs and protects them in a heartbeat, and is an excellent trail partner when out horseback riding.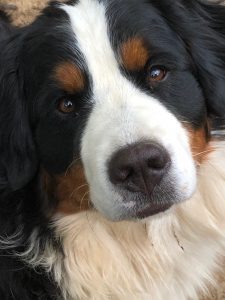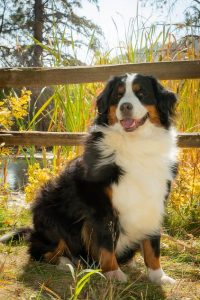 Doglovers Magnolia Blossoms on the River
DOB 5/7/2018
AKC # WS60957601
BernerGarde # 156694
Test Results:
       DM SOD1-A carrier
       DM SOD1-B clear
       vWD clear
       Hips (OFA) Good
       Hips (PennHIP) Right DI = 0.26, Left DI = 0.30
       Elbows (OFA) Left = Normal, Right = DJD Grade I
       Eyes Normal
River's superpowers include:  being the cutest little sassy-pants you have ever seen, is wicked smart, and she says what's on her mind.  A lot.  She enjoys engaging with obstacles on the agility course, and loves applause when she's in the show ring.  She is such a sweetheart and a very happy girl. River loves to be the big sister and watch over the baby puppies whenever Flower needs a break.  She can't wait to have her own puppies – I just pray that they aren't as wild as she was as a baby – UPDATE – her litter from May 2021 was exceptional!  Wonderful personalities!  River LOVED being a mom and can't wait for her next babies.